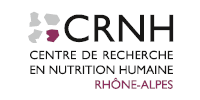 Main Research topics
The Rhône-Alpes Research Center for Human Nutrition strives to improve human nutrition and health. It develops research programs in nutrition within the framework of national, European and international research programs, working closely with industrial partners and researchers worldwide.
Nutritional physiology
Ageing
Artificial nutrition
Bioavailability of nutrients
Eating behavior
Energetic metabolism
Functional foods
Lipid metabolism
Nutrition
Nutrition and cardiovascular risk
Nutritional education
Nutritional physiology
Physical activity
Malnutrition
Cystic fibrosis
Inflammation
Malnutrition
Malnutrition and chronic disease
Malnutrition and growth
Overnutrition
Insulin resistance
Obesity
Overnutrition
Oxidative stress
Sleep
Training Programmes
1/ PhD's
– Doctoral school in  Health Sciences > Weblink
2/ MASTER (in French)
– Master2 Cardiovascular, Metabolic and Nutritional Regulations > Weblink
This specialty has as main objective to contribute to the training of future research frameworks in the field of cardiovascular, metabolic and nutritional, and specifically prepare them for entry into doctoral training.
3/ EUROPEAN INTER UNIVERSITY DIPLOMA (in French)
– Clinical Nutrition and Metabolism > Weblink
– Obesity Medicine > Weblink
The educational objective of the IUD is to acquire the necessary resources and skills to negotiate with the obese patient an individualized care plan. Teaching is organized into 5 modules (one day of theoretical instruction followed by a practical instructional day as clinical case study).
– Nutrition and Feeding: From metabolism to nutritional advice in obesity and in the elderly.
Responsible Pr. Joëlle GOUDABLE. The first module of this DU will be delivered in e-learning. This call for proposals is labeled Excellence Initiatives Innovative Training (IDEFI), and is supported by the Francophone Digital University of Health Sciences and Sports (UNF3S) and funded by the French National Research Agency (ANR).
4/ SUMMER SCHOOL (in English)
Nutrition, Heath, cognitive processes in food choice
This summer school aims to be both innovative and forward on various applications of nutrition. It will be a real moment of exchange between students, teachers and nutrition field professionals to forge links abroad.
This university will be divided into four main themes:
macro- and micronutrients and their place in large epidemiological studies,
Nutrition and health through the major public health problems,
Nutrition and food choices,
physical activity as the best ally of nutrition.
5/ RESEARCH CENTER OF THE INSTITUTE PAUL BOCUSE
6/ PhD's
Doctoral students benefit from the expertise of an ad hoc steering committee made up of researchers and professionals.
It develops an original research strategy that is included in a truly multidisciplinary approach that takes into account three major concerns:
the taste and pleasure of a meal, tasting, table etiquette, service, hosting and hospitality;
health and well-being, nutritional balance, physiological and mental well-being;
the environment of people eating, in its economic, social and cultural aspects…
7/ SUMMER SCHOOLS
The next Summer School:
« Food &Hospitality research: from preparation to consumption »