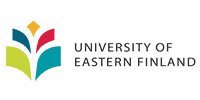 Main Research topics
University of Eastern Finland (UEF) is located in Eastern Finland with a staff of 2,000 and a student population of 6,000 students. It is specialized in health and environmental sciences including the technologies related to these disciplines.
Institute of Public Health and Clinical Nutrition at the Kuopio campus of the University of Eastern Finland has since 1984 been the only institute in Finland providing master level education in clinical nutrition leading to a profession as authorized clinical nutritionist (so far >450 master degrees). Teaching is closely linked to research at the UEF Nutrition to serve the common goal to identify the role of diet, foods and food components in the maintenance of health and treatment of diseases (weblink). The research groups have been organized into three research lines: Diet and Chronic Diseases, Food and Health, and Food Biotechnology and Safety. The unit has investigated over 2500 individuals in completed dietary interventions and over 550 individuals in completed postprandial studies so far. Currently, slightly less than 1000 clinical visits are performed annually. We have a database of >800 adipose tissue biopsies and >300 liver biopsies. Gene-diet interactions are an important topic at a molecular and epidemiological level (nutrigenomics). Main food items in our studies have been whole grains, berries and fish. The department of food biotechnology joined the unit in 2012 and broadens the scope of research towards food safety (gut microbiology and food hygiene).
Prof Jussi Pihlajamäki, MD, PhD is Professor of Clinical Nutrition. Head of the Clinical Nutrition and Obesity Center at the Kuopio University Hospital. His primary interests has been on complications related to obesity, especially to liver steatosis and inflammation and cholesterol and bile acid metabolism. At the molecular level we were the first to demonstrate dysregulation of factors regulating RNA processing in obesity. Later, we have shown that several alternatively spliced mRNA variants are dysregulated in obesity, and that this can be corrected with improved lifestyle or obesity surgery.
Assoc. Prof. Ursula Schwab, PhD is Associate Professor in Nutrition Therapy. The main research interest is to understand better the significance and mechanisms of optimal diet on health and on risk factors of non-communicable diseases. She has long expertise in conducting randomized controlled trials with dietary modifications. A large variety of methodology, both at the Department of Clinical Nutrition and as collaboration with other Departments and Universities, has been adopted to examine the effects of dietary modifications as thoroughly as possible. The ultimate goal is to find ways to prevent non-communicable diseases by optimal dietary pattern, and to find effective applications to nutrition therapy, personalized approach (genetic variability) taken into account.
Training Programmes
Master degree in nutrition (partly in English)
Master degree in Public Health Nutrition (in English)
Graduate school/PhD programme in Nutrition
Nordic PhD programme NORDFOOD